Delicious tastings at Enoteca Cantina Follie in Tremezzina… Reaching the top of Monte Grona, that has to be celebrated. We made a reservation tonight at wine bar and enoteca Cantina Follie in Tremezzina. After Millesimo the second wine bar this week. Enoteca Cantina Follie is well hidden in a small and narrow street Via Volta Alessandro in Tremezzina (Tremezzo). We need to search. On Tripadvisor, the wine bar once again catches the eye. The comments are very positive…
In the old house, Cantina Follie was set up as a real wine cellar. The low vaults support the wine bottles and the tables are made from old wine barrels. The twilight brings us right into the mood! A lady welcomes us and asks if we would like to sit inside or outside. Through several small rooms, tasting room and narrow stairs she guides us to the terrace under the vines.
The list of wines is extensive. Enthusiasts and wine connoisseurs can indulge themselves here and taste. Of course you can also buy wine here. If you do not immediately know what to choose, you can ask the waiters. They will be happy to help you make a choice from the various formulas. For 13 euros you can select five glasses of wine. We go for a prosecco, two white wines and two red wines.
But the choice overload strikes again mercilessly. Cantina Follie serves plates with various cheeses and charcuterie from the region that fulfill the tasting. The Tagliere dell'amicizia catches the eye… A friendship plate with the full range of cheeses and meats with sandwiches, gherkins, honey and onion jams… Bring it on!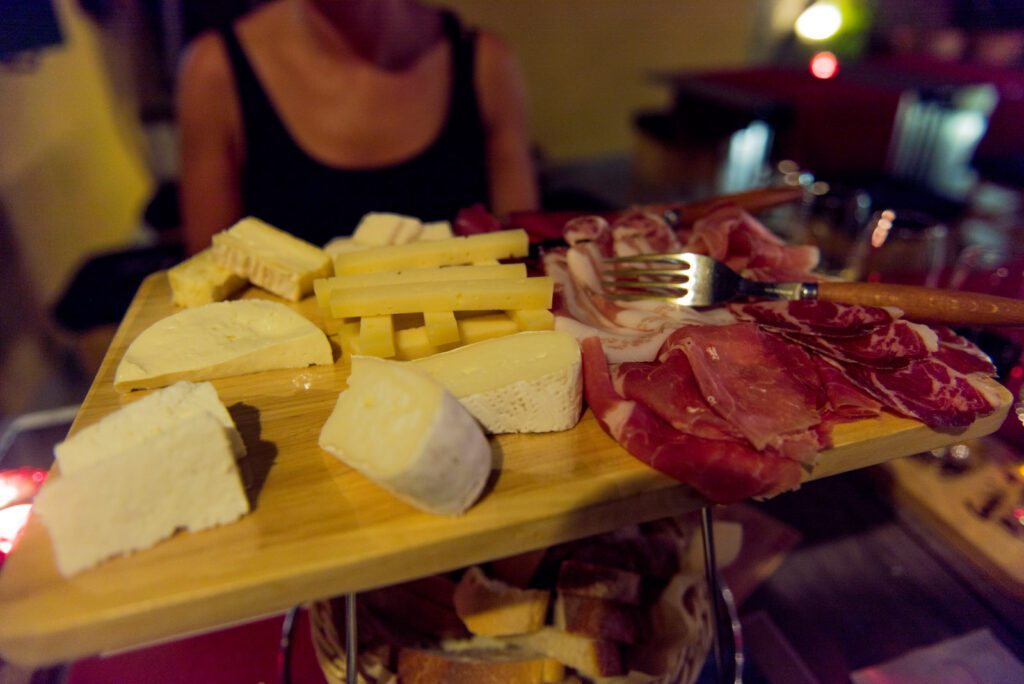 Ten minutes later our table groans under the weight of the friendship plate. Cheese, cheese and cheese….Meat, meat and meat. Also many local products. Very tasty and the perfect combination when tasting the wine. The glasses of wines are nicely placed in the order of the accompanying note. Handy to indicate later which bottles we will take home.
Tasting wines and enjoying a Tagliere dell'amicizia with good company. What more does a person need?
At Cantina Follie, the focus is on the wine and the products. Well cared for, without too many frills. Sitting on the terrace is relaxing. Despite you have no view of Lake Como. Don't worry, just look in front of you and make sure your dining companion doesn't finish your friendship plate…
When we leave the cantina, fireworks explodes above Menaggio. The light show above dark Lake Como is fantastically beautiful. And so we end another fantastic evening…